St. Joseph School - Class of 1958
DOWNERS GROVE AREA MIDWEST MINI-REUNION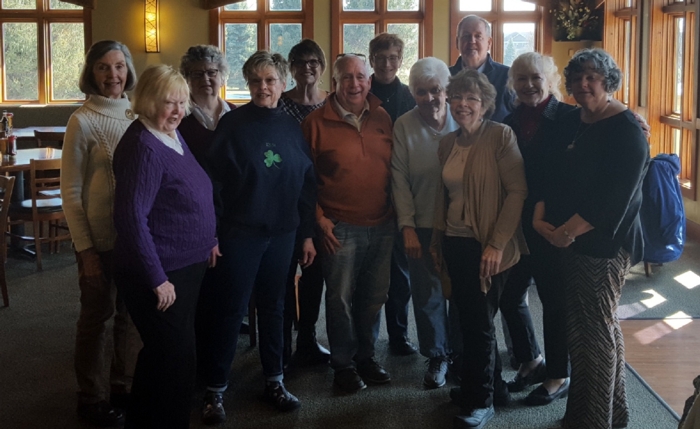 Left to Right Back Row: Rita Mitchell Mathern, Karen Fritz Smit, Mary Graff Bozek, Judy Bradley Everson, and Jack Doyle
Front Row: Charlene Tobin DeVitto, Kathy Finn Bruner, Ed Briner, Christine Jaloweic Ceranek, Mary Ellen Heelan, Janet Sienkowski Panos, and Camille Wosik
Twelve of our classmates gathered together at the Wheatstack - A Midwestern Eatery & Tap in Lisle, Illinois on Saturday, 22 February 2020. At 50 degrees fahrenheit in February, the weather could only be described as terrific. The best part of the two-hour gathering was that everyone seemed to have had a good time! Reportedly, there were many requests for another get-together (those familiar faces do look happy).
Common discussions centered around questions like: What are you up to? How are the grandchildren? Any new adventures? What's happening on the health front, emotional and physical? Any trips in the offing? Are you working or retired? How are you coping with losses and stressors?
Everyone was delighted to be with our honorary classmate Jack Doyle again, too!
CELEBRATING AN ANNUAL MINI-REUNION EVENT TOGETHER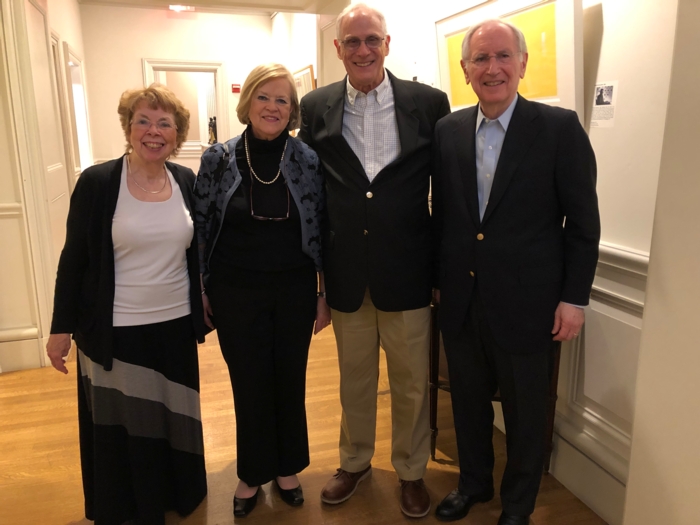 We four classmates, Mary Ellen, JoEllen, Tom and Phil, are fond of valuing our old friendships. Annually, whenever Mary Ellen comes to town, we gather at a spot in the Washington, DC, area to refresh our historical St. Joe roots and friendships. Our last gathering was generously hosted by Phil at the Cosmos Club where we all enjoyed a most delightful meal and upliftingly good discussion, which generally centered on our health, families and politics. After five or six years of these gatherings we still very much enjoy one another's company and expect to continue the tradition. JoEllen's spouse Bob Potts and my spouse Marlene were present, too. We ran short of time, however, and reluctantly had to limit ourselves to this one photo.
---
CLASS OF 1958 HONORIFIC PAVER ON THE SISTERS OF PROVIDENCE CAMPUS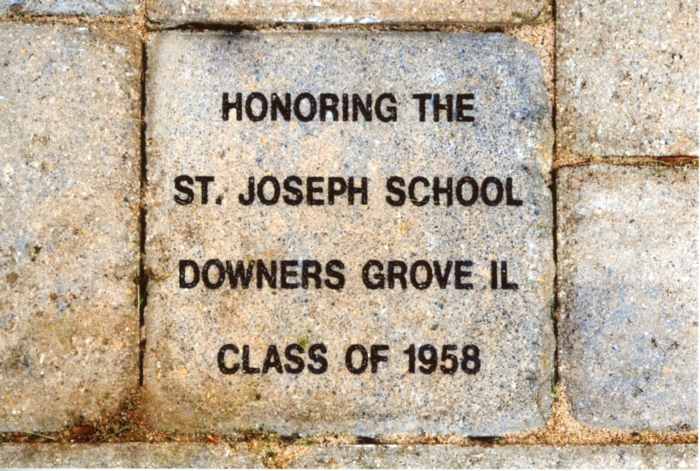 If you're planning to be in the vicinity of Saint Mary-of-the-Woods, call ahead to (812) 535-2800, to arrange for a visit to Foley Park on the campus of the Sisters of Providence. Please take some pictures that are inclusive of our paver and we'll share them here. Be sure to include yourself and other loved ones in the photo. Here is the letter that accompanied this picture of our paver: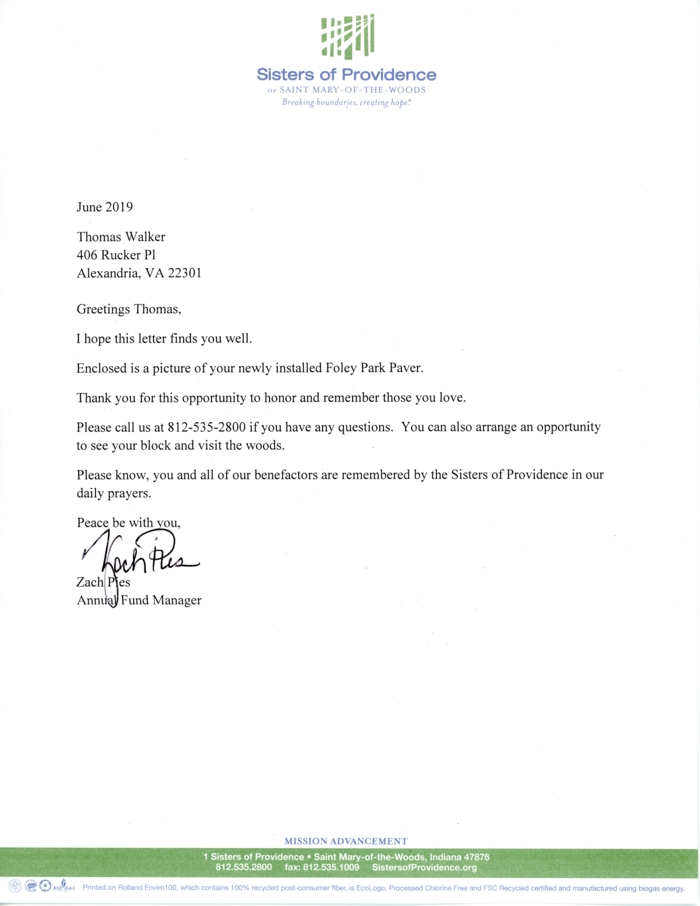 ---
DOWNERS GROVE AND ST. JOSEPH PARISH CHURCH AND SCHOOL - 100 YEARS AGO
I found this map in the DuPage County basement records room a few years ago, and it is pretty neat. I've circled the location of St. Joseph's Church and School. The amount of vacant land is amazing! I'll put the unblemished picture in the "Photos 1950-58" Teachers & Edifices Tab, and you should be able to open the image and zoom-in. Enjoy!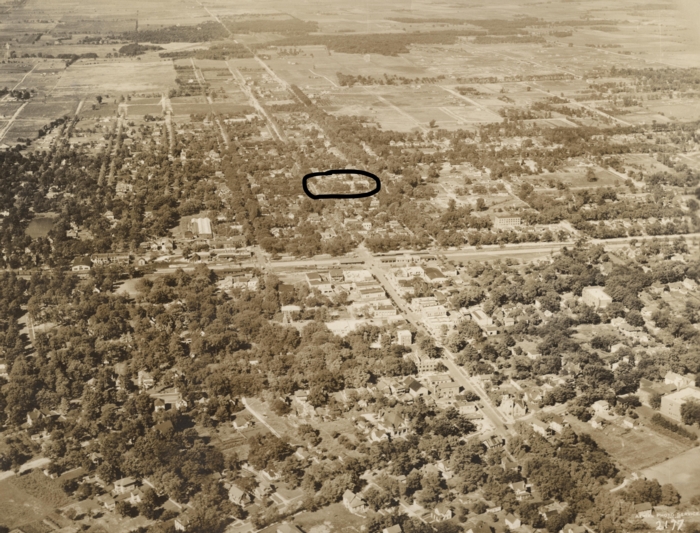 ---
PICTURE FROM 60TH REUNION CELEBRATION
SEPTEMBER 14-15, 2018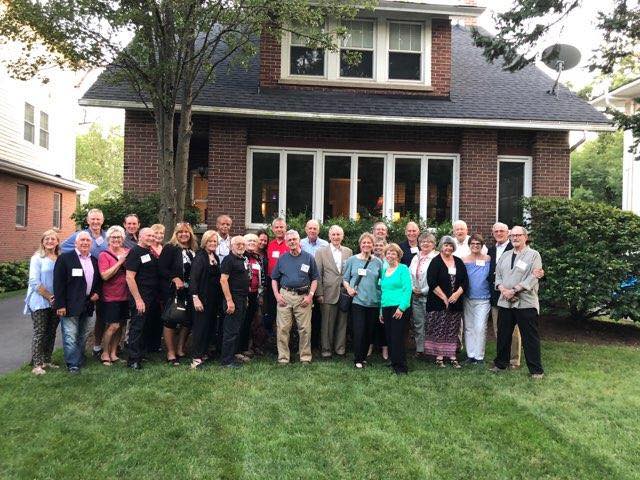 ---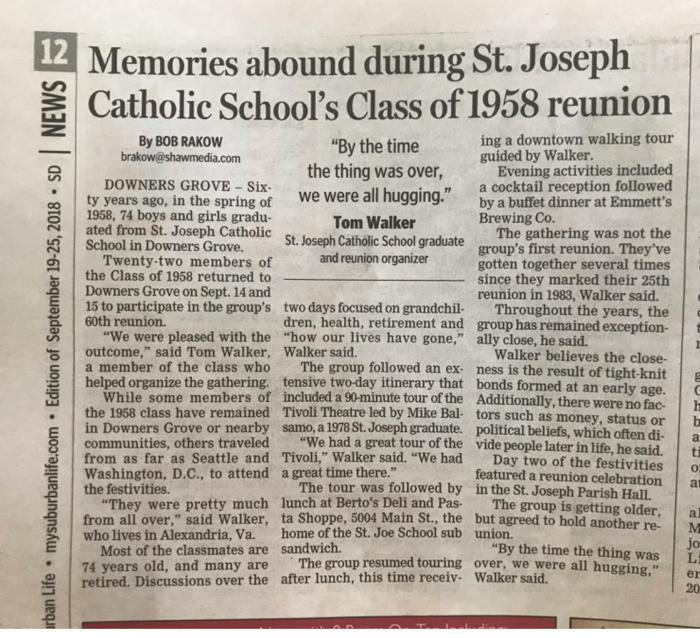 OUR SISTERS OF PROVIDENCE TEACHERS 1950-58
Wonderful that we have this terrific update on the Sisters who served at St. Joseph School from 1950-58. Yes, Sister Adrian Marie is still going strong and living in California and three other of our teachers are also alive and living at St. Mary-of-the-Woods!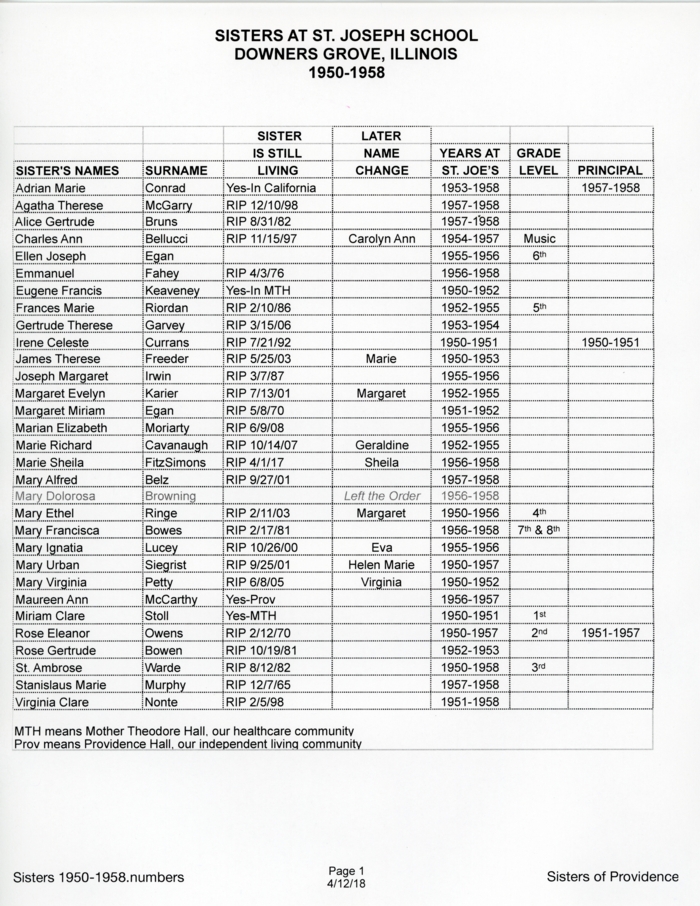 60TH REUNION PREAMBLE
This preamble was originally written for our 50th Reunion. Today, its message is still valid.
As we approach the celebration of our 60th Reunion, let it be known and honored that we come to the event with a multitude of conflicting memories and life experiences.
Our expectations and anticipations will be many and various in their level of excitement and, perhaps, even fear. Some of us will arrive at the reunion with painful remembrances, hoping to face down internal demons still resident from not-so-pleasant and long-ago experiences. Others of us will bring to the reunion gloriously vivid memories of a wonderful time, in such brilliant detail that the events remembered will appear to have taken place last week, and not sixty years ago.
Let us remember that none of us can confidently claim to know the myriad feelings that will be traveling with our classmates as we all make our respective ways to the reunion. We cannot begin to know the environment that each of us faced individually as a student at St. Joseph School. Our interactions with one another during our student years, and the interactions that we and our parents and families had with priests and sisters during that time, were not uniform nor were they always played out publicly or pleasantly.
Likewise, we are not privy to the private experiences that each of us had within our family units; some of us suffered and others of us thrived. Some of us went to school happily smiling and unconfused, while others of us arrived tensed with fear and ridden with anxiety. To complicate matters, regardless of the mental or physical state of our arrival at school, we weren't always good to one another once we were there.
In addition to the memories and experiences of our elementary school days, our lives have been further complicated and enriched by life itself. In grade school, we were relatively unburdened by politics, religion, and money; now, however, we have many years of contrasting experience with this volatile triumvirate. Over these many years we have all individually faced life and death, sickness and health, good marriages and bad, ignorance and knowledge, solitude and togetherness, wealth and bankruptcy, and happiness and despair. For those of us who have had the good fortune to survive these intervening years, the impact of these 60 years is nonetheless palpable.
These observation are not unique to us as former students of St. Joseph School. They would be valid for any student, at any school, at any time, and at any place. Nor are they meant to discourage our participation in the reunion. Rather, these thoughts are presented to assuage fears, temper anticipations, and heighten our sensitivity to the needs and concerns that we will all bring to the reunion.
We are gathering together not just to reconnect and recall juvenile experiences, but to make new and better connections with the people with whom we shared early and significant developmental experiences. We are gathering together not just to review the milestones of our journey thus far, but to strengthen in each of us the resolve to carry on regardless of what lies ahead. We are coming together not to compare or judge, but genuinely to enrich our lives by embracing the totality of one another's experiences. We are gathering together to acknowledge and celebrate the incredible resilience of life as we humans know it, and to seek new horizons in our very complex lives.
---
Eight Sisters of Providence - 1955 Christmas Holiday
The Name the Sisters Contest was a bust. Only two classmates took the survey. Guess that it has been too many years since we really knew these women. So, here are the identities for seven of the eight sisters (our contact at St. Mary of the Woods couldn't identify Sister "D"):
Sister "A" is Virginia Clare, Sister "B" is Rose Eleanor, Sister "C" is Mary Ignatia, Sister "D" is Unidentified, Sister "E" is Mary Urban, Sister "F" is St. Ambrose, Sister "G" is Adrian Marie, and Sister "H" is Mary Ethel.