FRIDAY AND SATURDAY — SEPTEMBER 14-15, 2018
WELCOME TO THE SJS58DG CLASS WEBSITE

We had a terrific time at our 50th Reunion! Please join us for our 60th!
Many of us in our graduating class of 79 students attended St. Joseph Catholic School together from the 1st thru the 8th grades, in the Village of Downers Grove, Illinois. Our last names are reminiscient of the post WWII era: Crepeau, Drimba, Epach, Fritz, Graff, Howerton, Jalowiec, Jamieson, Kopecky, Laczynski, Michalek, Niemec, Ruhnau, Schlanser, Sienkowski, Skala, Tuskey, and Wosik.
Long before we had ever heard of subgroups, we constituted one. The collective feel of our relationships transcended our individual friendships. We remember one another (and all of our antics, personality quirks, and adolescent romances) vividly. Being catholic in what seemed to be a largely protestant town, we were keenly aware that we were different, which undoubtedly contributed to the strength of our feelings as a group.
For many of us, the mere mention of places like our uniquely blocked-off and cobblestoned Franklin Street playground, Prince Pond (our Winter skating paradise) and the Tivoli Theatre (pipe organ and heavy red drapes), elicits intensely pleasant memories. While not all memories of our youth were pleasant, there may well be benefit in recalling the bumps in the road together, too.
We can't relive the past, nor would it be advisable. Reminiscing, however, well that's okay! For some of us, reminiscing about places and events can be fun all by itself. For other's, nostalgia increases life's meaning. To share these memories while reconnecting with our classmates and friends from 60-years ago, however, may well be just what the doctor ordered.
As we are all beginning to realize and feel in our bones, the opportunity for us to assemble together (in the flesh) is not eternal! Hopefully, this website and our 60th Reunion gathering in Downers Grove this September, will provide a most welcomed respite from the struggles we all face everyday.
Tom Walker
Just received this terrific update on the Sisters who served at St. Joseph School from 1950-58. Yes, Sister Adrian Marie is still going strong and living in California (her mailing address is at the very bottom of this column). Three other of our teachers are also alive and living at St. Mary-of-the-Woods!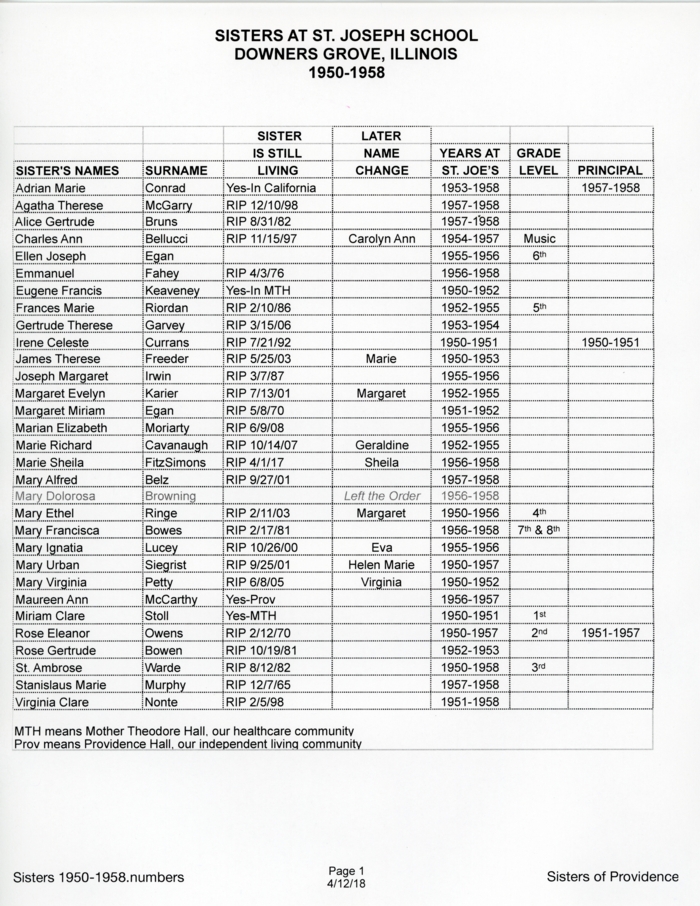 FINN SIBLINGS JOIN AS GUEST MEMBERS!
Just a shout out to welcome Noreen Finn Donka who has joined our site as a guest member. She is Kathleen Finn Bruner's sister. We've also invited Kathleen's two brothers John and James to join as guests. I'm highlighting this happy development to encourage others of you to invite guest memberships for your sibilings who attended St. Joes with you. I will need to have their names and email addresses sent to me.
---
DOWNERS GROVE AND ST. JOSEPH PARISH CHURCH AND SCHOOL - 100 YEARS AGO
Just refound a map that I found in the DuPage County basement records room a few years ago, and it is pretty neat. I've circled the location of St. Joseph's Church and School. The amount of vacant land is amazing! I'll put the unblemished picture in the "Photos 1950-58" Teachers & Edifices Tab, and you should be able to open the image and zoom-in. Enjoy!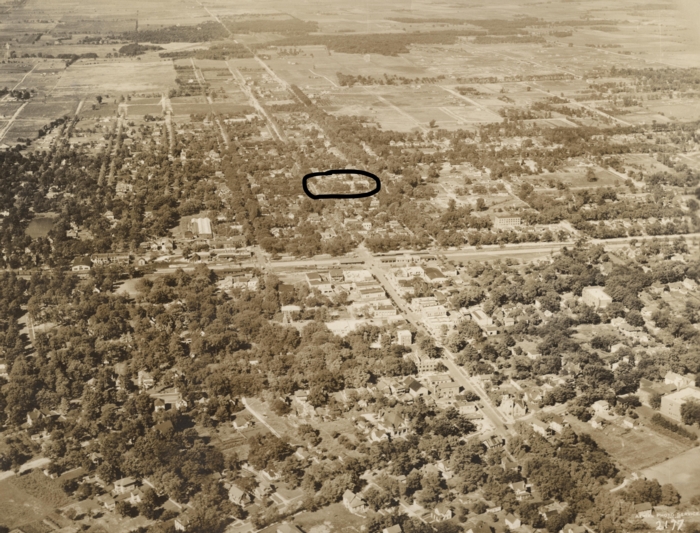 ---
60TH REUNION PREAMBLE
This preamble was originally written for our 50th Reunion. Today, its message is still valid.
As we approach the celebration of our 60th Reunion, let it be known and honored that we come to the event with a multitude of conflicting memories and life experiences.
Our expectations and anticipations will be many and varied in their level of excitement and, perhaps, even fear. Some of us will arrive at the reunion with painful remembrances, hoping to face down internal demons still resident from not-so-pleasant and long-ago experiences. Others of us will bring to the reunion gloriously vivid memories of a wonderful time, in such brilliant detail that the events remembered will appear to have taken place last week, and not sixty years ago.
Let us remember that none of us can confidently claim to know the myriad feelings that will be traveling with our classmates as we all make our respective ways to the reunion. We cannot begin to understand the environment that each of us faced individually as a student while at St. Joseph School. Our interactions with one another during those student years, and the interactions that we, our parents and families had with the priests, nuns, and lay teachers during that time, were not uniform nor were they always played out publicly or pleasantly.
Likewise, we are not privy to the private experiences that each of us had within our family units; some of us suffered and others of us thrived. Some of us went to school happily smiling and unconfused, while others of us arrived tensed with fear and ridden with anxiety. To complicate matters, regardless of the mental or physical state of our arrival at school, we weren't always good to one another once we were there.
In addition to the memories and experiences of our elementary school days, our lives have been further complicated and enriched by life itself. In grade school, we were relatively unburdened by politics, religion, and money; now, however, we have many years of contrasting experience with this volatile triumvirate. Over these many years we have all individually faced life and death, sickness and health, good marriages and bad, ignorance and knowledge, solitude and togetherness, wealth and bankruptcy, and happiness and despair. For those of us who have had the good fortune to survive these intervening years relatively intact, the impact of these 60 years is nonetheless palpable.
These observation are not unique to us as former students of St. Joseph School. They would be valid for any student, at any school, at any time, and at any place. Nor are they meant to discourage our participation in the reunion. Rather, these thoughts are presented to assuage fears, temper anticipations, and heighten our sensitivity to the needs and concerns that we will all bring to the reunion.
We are gathering together not just to reconnect and recall juvenile experiences, but to make new and better connections with the people with whom we shared early and significant developmental experiences. We are gathering together not just to review the milestones of our life journey thus far, but to strengthen in each of us the resolve to carry on regardless of what lies ahead. We are coming together not to compare or judge, but genuinely to enrich our lives by embracing the totality of one another's experiences. We are gathering together to acknowledge and celebrate the incredible resilience of life as we humans know it, and to seek new horizons in our very complex lives.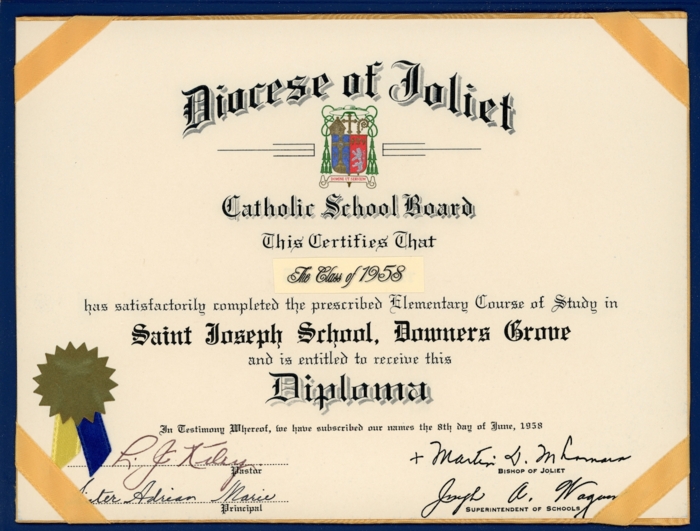 ---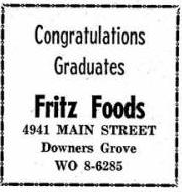 ---
While this item from Joe Reinert is more than a year out of date, Joe says that Sister Adrian Marie is still going strong! We have received confirmation (May 2018) from her Motherhouse that Sister Adrian Marie indeed is alive and well at 98 years-of-age!